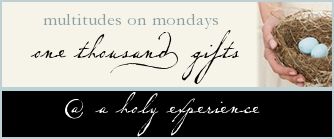 Giving thanks to God in
community
for His gifts ...
Fajitas with guacamole.
Cheesecake.
Strong cup of coffee with friends.
Faithful followers.
Word Alive.
Hope.
Admirable examples.
Committed sojourners.
Encouraging on-lookers.
"I love our chats."
"I am missing you."
"Remember God gave that to you...it's His...let Him do what He wants with it."
Songs in the car.
Lists for everyday life.
Butterflies and clouds.
Milk from the dairy.
Signature cologne.
The younger years.