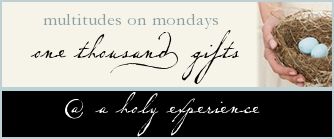 Giving thanks to God in
community
for His gifts ...
3 Yellow Gifts of Fresh Mercy...
lemon slices in a clear glass of ice water
creamy butter melting in a skillet
kitchen lemon hand soap from b&bw
Something Above, Below, Beside...
bright starry night
freshly vacuumed carpets
Philip's recliner ... right by mine.
3 Things About Yourself for which You are Grateful...
I can plan
I can cook
I am a fun girl
3 Startling Graces of God...
Philip's new work schedule
unexpected time with lovely out-of-town guests
victory - when defeat was hissed and haunted by the deceiver
A Gift Worn, Given Away, Shared...
The awesome Tshirt Philip brought me back from Snowshoe
hopefully my sofa and love seat ... very soon:)
a crock of chili and snicker doodles dipped in coffee
3 Witnessed Blessings...
sweet words from preteens
truth shared among 6-yr-olds
kindness between the man cubs
A Gift Bringing Laughter, Prayer, Quiet...
Banana-grams and Catan with friends
a struggle for peace
arriving half an hour early for the worship service
3 Gifts from God's Word...
Be strong and courageous.
Be of good cheer.
Be not afraid.
3 Gifts that Might Never Have Been...
a Sabbath spent with her dad - if Mari had not had a cough.
Aryn - if our miscarried baby had thrived.
Elizabeth - if we had submitted to the doctor's suggestion.
3 Gifts Only Seen Close Up...
the birthmark in Elizabeth's right iris
brow hairs that beckon to be tweezed
all reading material without my glasses - now that I'm in my 40's :)