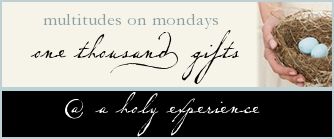 Giving thanks to God in
community
for His gifts ...
Gifts opened...
the new song we wrote to sing in worship
a special note with envelope and stamp
the steamy dishwasher -full of dishes rid of yesterday's filth, ready for a new day of service
(Lord, thank You for letting me see my life in the same morning light:)
Gifts found budding and blooming...
the purple irises that miraculously appear despite my lack of attention
azaleas that share similar neglect, but still blossom beautifully
and while we're on the subject: my oldest daughter
Three gifts worn...
my faithful pair of black slacks that accompany me in worship most weeks
my diamond earrings the boys gave me when they were small
the path of carpet down the hallway - from a perpetual parade of purpose and play
Gifts found looking up...
sun-stained clouds at dusk
tiny silver stars that hint at my insignificance,
yet ultimately establish my significance as a friend of God.
In a bag...
whole wheat flour
In a box...
plump juicy raisins
In a book...
Oatmeal Raisin cookie recipe
And the hard eucharisteos...
wisdom to know when to let go and when to chase after
tearful confessions of a heart turned toward grace
Christ, beaten down for my sins, getting up to take more stripes...until He paid it all.