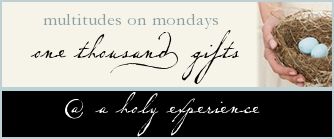 Giving thanks to God in
community
for His gifts ...
3 gifts of change
Landen driving the boys to school
Ardyn babysitting
Elizabeth staying dry at nap time
a gift small
window of time for me to read
a gift smaller
window of time for me to write
a gift smallest
window of time for me to dream
3 gifts read
Choosing to See
by Mary Beth Chapman
Thanksgiving recipes in
Southern Living
"I will praise Thee, O Lord." on Mari Alice's penmanship page.
3 gifts said
"You look so pretty in green!" -PJ
"This was a VERY special day!" - DW
"I'm sorry. I do love you, Mom." -LJ
3 gifts re-read
Landen's History paper
If You Give a Mouse a Cookie
- times a million
The Book of James - forever until I get it.
3 gifts burning
a scrumptious creme brulee candle indoors
a pile of wooden scraps outdoors
a desire for God's presence - smoldering within
3 gifts ugly-beautiful
the red nose and swollen eyes of an emotional datenite
uneasy vulnerability
healing wounds
a gift shared
a kiss goodbye
a gift saved
a kiss to welcome him home
a gift surrendered
my hurried agenda when the better thing to choose is a kiss
3 gifts unexpected
Landen serving up a plate of food for me when he thought I might miss out
all four girls enjoying a picnic luncheon on the flat bed trailer
several hours of quiet when Philip took everyone but the napper to the deer lease
3 gifts unconventional
Noah's ark out of Lego
scarves and newspaper and dancing in church
Lecrae
3 gifts undervalued
commitment
hard work
marriage