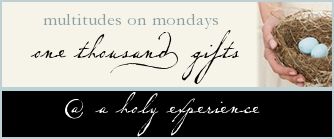 Giving thanks to God in
community
for His gifts ...
I thank God for things surprisingly found:
a relaxing day together, in this season of crazy racing
the book I was looking for
a pencil just when I needed one most
Gifts in His Word:
"Let love and faithfulness never leave you ... write them on the tablet of your heart."
"Trust in the Lord with all your heart ... and He will make your paths straight."
"Wisdom's ways are pleasant ways, and all her paths are peace."
His gifts throughout the day:
Good news
Quiet moments
Fun friends
Gifts nailed together:
Frames for photos
Tables and chairs
Divine truth and everyday evidence
Gifts waited for:
Answers to the questions
Permission to move on
Wisdom
Gifts rising up:
Laughter around the table as we take our turns
a beautiful life redeemed from the pit
Surrendered hands, hearts of praise
A gift hiding:
slender folded dollar bills in pockets: pants & purse
A gift held:
the lily Ardyn picked out, perfect in every way
A gift heard:
a cheerful brother's voice from across the many miles